An innovative, two-part approach combines dedicated hardware with a comprehensive management system
The Janus Secure Computing Platform is an enterprise-class solution built for today's most security-conscious industries, including government and banking. It offers protection against insider and outsider threats to sensitive data, monitoring user activity on all computers inside an organization.
There are two parts to the Janus Secure Computing Platform: the Janus Secure Computer and the Janus Management System.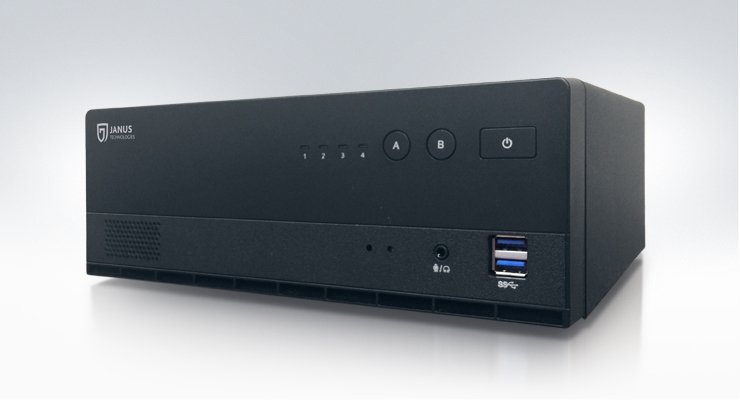 The Janus Secure Computer is an enterprise-class computer designed to offer the highest level of security. It's powered by a unique technology invented and patented by Janus Technologies to revolutionize endpoint security—by handling security tasks in BIOS, instead of software. Available in a desktop format (known as the JT-5701) and as a laptop (based on the VAIO S13), the Janus Secure Computer is designed to stop both internal and external threats in their tracks.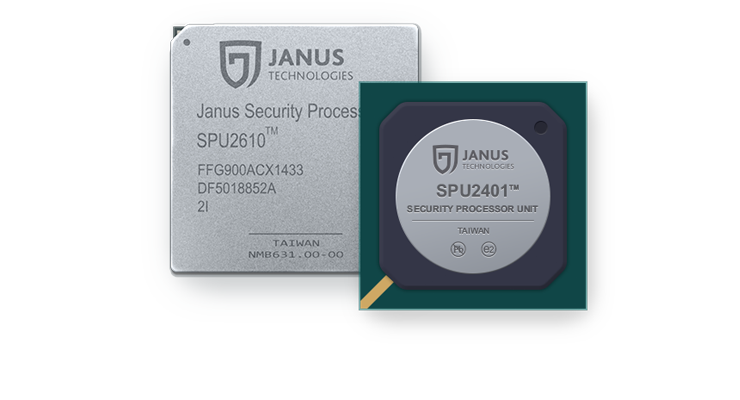 Both are powered by the Janus Security Processing Unit, or SPU, which provides advanced dual operating system capabilities, along with input/output security and user monitoring. And it's dedicated to processing security functions while providing a secure perimeter around the PC operating system.
Powerful security and performance offer the power you need to battle today's threats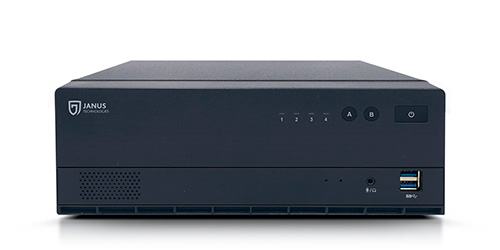 Janus Secure PC Desktop
The SPU-M-a PCI card module with dedicated SPU processor and support chips.
Security functions that are centrally controlled by approved IT staff using Janus Management System software
Intel Core i7-6700 (up to 4.0GHz) CPU
16GB DDR4 RAM
256GB SATA solid state drive
Display options for the Internet-based operating system on one monitor and the internal network operating system on up to four monitors
Dual LAN ports—one for each operating system—to ensure network separation
Small, four-inch tall footprint, measuring 10 inches by 9 inches — which can be positioned either horizontally or vertically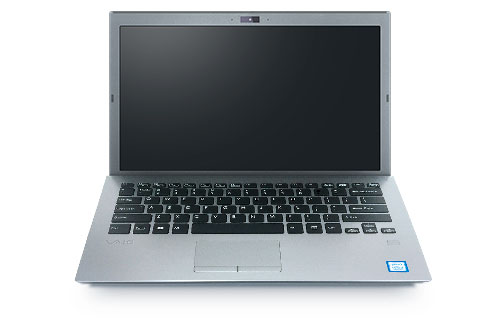 Janus Secure Computer Laptop
Hardware based on the VAIO S13, running the Janus VSPU BIOS, providing dual operating system capabilities, along with other advanced security features
Security functions that are centrally controlled by approved IT staff using Janus Management System software
Option 1: Intel Core i7-8550U (up to 4.0GHz) CPU; 16GB memory, 512GB PCI Express storage

Option 2: Intel Core i5-8250U (up to 3.4GHz) CPU; 8GB memory, 256GB PCI Express storage
Runs two operating systems simultaneously—including Microsoft® Windows® 10, 8, 7, XP or Linux — to isolate the Internet from the secure internal network
Intel high-definition graphics
Thin, lightweight profile: 2.3 lbs. (1.04 kg.)




Advanced management tools help you maintain control
The Janus Management System gives IT administrators the tools and infrastructure to deploy, integrate and manage their Janus Secure Computers. It provisions, configures and monitors multiple Janus Secure Computers, with policy-based group management and operation scheduling. It provides:

Central management capabilities for an organization's Janus Secure PCs, using a dedicated management system software console
Capabilities for creating system profiles and properties, including memory, storage, USB, network and dual operating systems
Options for creating policies to apply properties to individual PCs or groups of PCs
Remote control for reboot, shutdown, firmware upgrade and drive erase operations
Firewall, network intrusion detection and VPN management
Management tools for drive encryption, network proxy, geo fencing and rebooting to a clean operating system
Functionality for detailed USB policies, including encryption and white-listing authorized devices
Real-time viewing or recording of user activity for preventive action and incident investigation
Monitoring for desktop and display activity, keystrokes, mouse movement and clicks
QR code monitoring that allows for automatic decoding and searching